This news article was originally written in Spanish. It has been automatically translated for your convenience. Reasonable efforts have been made to provide an accurate translation, however, no automated translation is perfect nor is it intended to replace a human translator. The original article in Spanish can be viewed at
Entrevista a Antonio Prieto, Gerente de Maquyrep, S.A.
"We have noticed little the crisis in the sector of spare parts because we offer very competitive prices"
Interview with Antonio Prieto, Manager of Maquyrep, S.A.
April 15, 2008
Maquyrep
is a company dedicated to repair, sale and spare parts of machines of public works. Specialists in New Holland - Kobelco, Case Poclain, Fiat-Allis and Fiat-Hitachi. Repair and sale of hydraulic hammers, since October 2007 is official distributor for the North Center of the aggregates of the Gasparin Impianti brand teams. Antonio Prieto, Manager of the company, says the evolution of Maquyrep since its inception.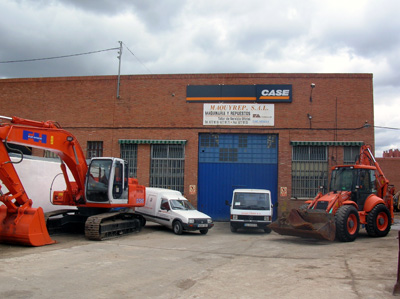 Maquyrep facilities in Torrejón de Ardoz.
How and when were your beginnings?
Maquyrep, S.A. was created in the year 1993, and in that time we were four partners and we came in principle Fiatgeotech Spain, S.A. and Tecnodasa.
In 1993 we started as a workshop of Fiat-Hitachi service, and a few years later as a service workshop Case, and at this time we are as close to the dealers mechanical equipment and services, S.A. (distributor of Newholland) and W41 Equimop collaborator (Distributor Case).
You give coverage in and out of the workshop. How far will it reach its area of influence?
Our technical service is carried out primarily in the downtown area, but also make technical interventions in any area of the peninsula and the Islands, since we have customers that require us this service.
Our spare parts service covers the needs of customers in all the national area.
The buying and selling of used machinery is carried out both in Spain and in other countries.
What are its main clients?. What market they are especially?
Our main clients are companies involved in building, lands, quarrying and recycling movement.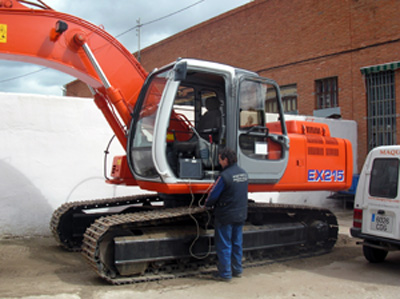 The main activity of Maquyrep is the repair, sale and spare parts of machines of public works.
With the recent representation of Gasparin machines, what does this step for the company?
Since October 2007, Centre of Spain are representatives of the Gasparin Impianti brand in the area. This company is dedicated to the manufacture of fixed and mobile mills. The acquisition of this representation is for us an important step towards our position commercially one of the top sale of such machinery in Spain. As though at the moment we are introducing this new brand in the domestic market, we are aware that Gasparin Impianti is one of the leaders in other European countries.
And now how can I find the spare parts market in Spain?
At the moment the market of spare parts in Spain into recession due to the crisis in the construction but our company has very little noticed this fall as our prices are very competitive and we have a qualified personnel with more than 30 years experience in the sector.
What percentage is for the company repair and sale of second-hand machinery?
Repair and sale of second-hand machinery is the main source of income in our company coming to 80 per cent of the turnover. And a 20 per cent on the sale of spare parts.
Finally, what are your future projects?
Our project in the future is to continue increasing the technical service to clients, having as base the quality of the same, and further increase the sale of used equipment.
The Gasparin Impianti brand new aggregates equipment we hope to upload sales this year.
In the sale of spare parts the novelty is that we are incorporating into our warehouse, components for the repair of hydraulic equipment of various brands.
Related Companies or Entities
CNH Maquinaria Spain, S.A. - New Holland (Div. Agrícola)