This news article was originally written in Spanish. It has been automatically translated for your convenience. Reasonable efforts have been made to provide an accurate translation, however, no automated translation is perfect nor is it intended to replace a human translator. The original article in Spanish can be viewed at
Ferrovial, Abertis y FCC, las constructoras más valoradas del sector
Study KAR (Key Audience Research) of Corporate Reputation in Spain, realised by Ipsos
Ferrovial, Abertis and FCC, the most valued constructors of the sector
Editorial Interempresas
27/04/2012
27 April 2012
Ferrovial, with 46%, Abertis and FCC, with 39% respectively, are the companies that enjoy of greater degree of favorabilidad in the sector of infrastructures in Spain, as it gives off of the last edition of the Study KAR (Key Audience Research) of Corporate Reputation in Spain, realised by Ipsos. Acciona (30%) situates in the fourth place, whereas ACS (23%), OHL (16%) and SyV (16%), complete this classification.
For Antonio Imedio, boss of services to the customer of Ipsos Spain "of the same way that each one of the companies enjoys of a high favorabilidad, the group of the sector of the management of infrastructures also does it above 72% very similar in results to other sectors of big importance for the Spanish economy as they are the transports, the telecommunications and by on even of the sector of the power"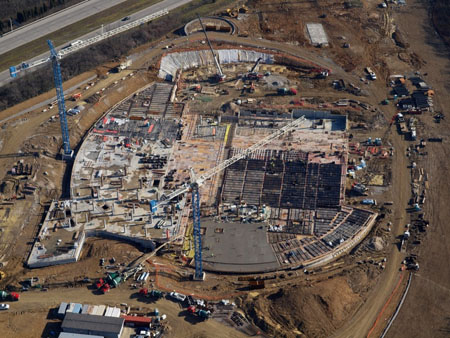 "The group of the Spanish sector of the management of infrastructures enjoys of a high favorabilidad".
According to the study, Acciona is the most strategic company for the Spanish economy for 18% of the participants in this edition of the study, gone on down Ferrovial and FCC with 16% and 11% respectively. This same pódium repeats in the recognition of a strong and clear strategy inside the sector of infrastructures, positioning, again Acciona, with 56%, gone on down Ferrovial (44%) and FCC (40%).
Besides, if we fix us only in the business management of the companies of the sector "beside Acciona are considered by the more than 100 skilled journalists that participate in the study KAR, like the best manage ACS (9%) and Abertis (7%)", comments Antonio Imedio.
Acciona Leads also the ranking of companies whose programs of Corporate Social Responsibility are the most valued. Like this, 25% of the respondents recognises the support and care to the environingingment of the company and 9% stands out his contribution in profit to the society. FCC And ACS are the following better companies valued in this field.
Likewise, for the specialists polled are Acciona (18%), Abertis (12%) and ACS (5%) the companies that greater success will harvest to in the next years. The same that they are recognised by his powerful corporate strategy and clear, with 12% in the case of Acciona and 5% in the case of Abertis and ACS.
STUDY IPSOS KAR
The study KAR presseses the economic situation and measures the Corporate Reputation of the main companies of the country and his RSC. As in previous editions, this new wave of the study elaborated by Ipsos has had the participation of 300 professionals, between analysts, politicians, academicians, business leaders and journalists of skilled media in the companies that work in the sector of management of infrastructures.