The Atlas Copco 2500 CC gag demolishing a restaurant of the nature park Siebengebirge (Germany)
on June 6, 2011
The panoramic restaurant on Drachenfels in Köngiswinter, in the nature park Siebengebirge in the Rhine River (Germany), will be replaced by a modern cube of glass at the Summit that will aim at increasing tourism. A muzzle demolition 2500 CC or Atlas copco has been commissioned to demolish the old restaurant in difficult conditions.
The access road to the restaurant has been frozen for weeks and was not passable. They then had to reinforce some points of the retaining walls of the road for the passage of the 25 tons of the excavator CAT 323 D and the gag of demolition. During the work, could not fall remains of demolition by the hillside. The outer walls had to demolish to the excavator.
The State pay most of the approximately eight million euros it costs to the project. All tasks in demolition could complete as expected. The start of the construction of the new restaurant is expected to be imminent. It will take form of cube of glass and will be complemented by a large Esplanade for visitors. The new Highland will be opened for Easter of 2012.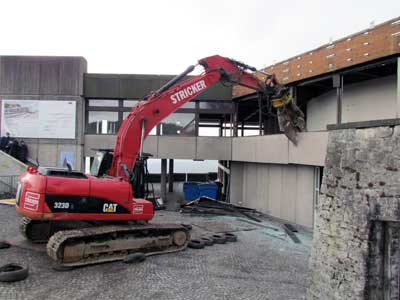 Gag CC 2500 of Atlas Copco.
Related Companies or Entities