This news article was originally written in Spanish. It has been automatically translated for your convenience. Reasonable efforts have been made to provide an accurate translation, however, no automated translation is perfect nor is it intended to replace a human translator. The original article in Spanish can be viewed at
Bobcat presta sus cargadoras con control remoto para ayudar en Japón
Bobcat provides their loader with remote control for help in Japan
on April 19, 2011
The controlled Bobcat loaders to distance involved in the work of recovery from the disaster caused by the earthquake and tsunami of Japan. Bobcat Company is collaborating with QinetiQ North America, technology, source of innovative solutions and services company.
To cooperate in the necessary work after the disaster, have been sent to Japan two compact wheel loaders from Bobcat T300 caterpillars equipped with tools of industrial staple of 2 m wide. The Bobcat loaders equipped with Robotic Kits limits of QinetiQ sets make them machines unmanned in 15 minutes; in this way increases security in the work of recovery, machines can access at least stable places without that the cab is occupied by an operator.
The loaders Bobcat controlled remote, located in Japan for quick use, include seven cameras, sensors thermal images, night vision, microphones, detectors and two-way radio systems of radiation. Handling can be made from more than a mile (1.6 km) away to remove rubble and debris, dig to extract buried objects and transport smaller teams with security. With them, the Japanese emergency brigades may carry out important and complex tasks of recovery to a more safe distance from the hazardous debris and other situations of risk.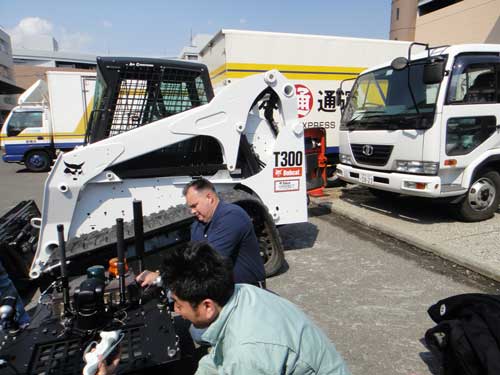 Workers developing a compact loader of caterpillars Bobcat T300.
Related Companies or Entities