Sismec obtained the international quality, in accordance with the ISO 9001: 2000 certification
July 3, 2008
Sismec (Systems and drives mechanical European, S.L.) He obtained on 11 April quality certification international, according to the norm ISO 9001: 2000, given by the company EQA-European Quality Asurance Spain, entity of prestige for its expertise in the European Union, United States and Asia, accredited by the accreditation Enac national entity, and in United Kingdom UKAS United Kingdom Accreditation Services.
With this accreditation, the company expects to be "a better service, and respond to the expectations of its customers". Sismec has concentrated its efforts on optimizing responsiveness to the demands of the client, the maximum involvement of each one of the people that make up the team, establish a decision-making process based on objective data in real time,, and keep its commitment for continuous improvement.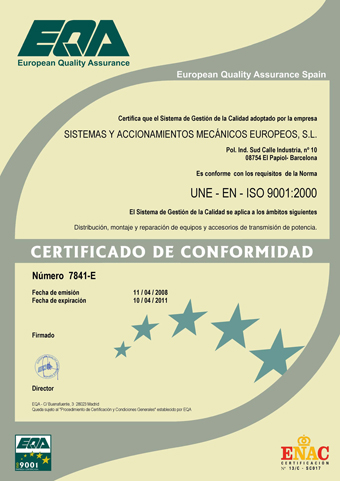 International quality of Sismec, in accordance with the ISO 9001: 2000 certification.
Related Companies or Entities
Entidad Nacional de Acreditación
Sistemas y Accionamientos Mecánicos Europeos, S.L.