The use of Compograss finishes with the electrical downloads ocasionadas by the artificial grass
20 April 2012
The use of artificial grass in sportive tracks and in children's playgrounds can cause electrical downloads when the boys and sportsmen go in in contact with the equipment of the installation. To avoid this unpleasant situation,
Composan
has developed a durable solution that works during all the useful life of the product, based in the use of fibres 100% antistatic of artificial grass.
Conscious of the problems that causes the static electricity in these cases, Composan has wanted to expand his line of artificial grass with the range Compograss Antistatic. It treats of product that receives an antistatic treatment in the fibres that compose it during his manufacture, solution that facilitates that the results are durable and remain during all the useful life of the lawn. Thanks to this system, is not necessary to apply temporary treatments when the lawn is already manufactured (for example with pulverizantes).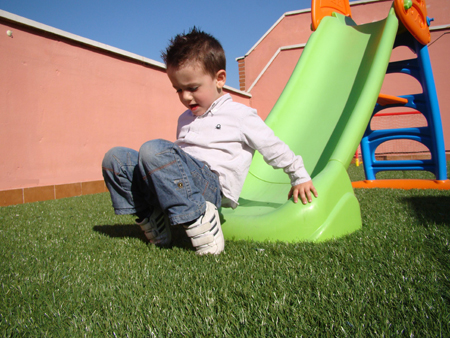 Compograss Antistatic.
This lawn presents a positive effect in the performance of the fibre and in the performance of the artificial grass and is especially indicated for all type of climates.
Through this system avoids that the filling adhere to the fibre and, therefore, prevents that it arrive to impregnate in the clothes of the users. This solution is able to dissipate this type of electrostatic power 10 faster times that the standard fibres.
Regarding his technical characteristics, the fibres used have a structure of fibrilado straight, 100% of polietileno, antistatic, of big resistance to the rays UV and big durability. The union between rolls produces to by means of adhesive bicomponente/monocomponete of poliuretano and band of union.
Another of the advantages that presents the utilisation of this type of the artificial grass is the reduction of until 80% of the use of water for the irrigation. Besides, it possesses a group of characteristics that favour the care of the environingingment when avoiding the utilisation of chemical products and pesticidas that can contaminate, or for reducing the use of machinery for his maintenance.
The technological advances of the last times have allowed to improve the qualities of this type of lawn so that also it can take care the surface (earth, baldosa, asphalt, concrete, etc.) where installs . In fact, Compograss has a mesh drenante that leaves to breathe the terrain at the same time that avoids, if it has rained, the mud and the puddles, avoiding like this the problems that generates the natural grass.