This news article was originally written in Spanish. It has been automatically translated for your convenience. Reasonable efforts have been made to provide an accurate translation, however, no automated translation is perfect nor is it intended to replace a human translator. The original article in Spanish can be viewed at
Daplast coloca 36.000 asientos para la presente temporada de Liga
Cordoba signature will supply in addition to 40,000 seats to Libya more
Daplast placed 36,000 seats for this season's League
Source: Daplast S.A.
26/10/2010
October 26, 2010
The summer months are key for the small company
Daplast
, that take advantage of July and August to install new seats on soccer stadiums, closed after their League Championships. In the 2010 preseason, Daplast has manufactured, supplied and installed a total of 36,000 seats in stadiums first and second Division for all Spain and, during this autumn, will export as many outside Spain.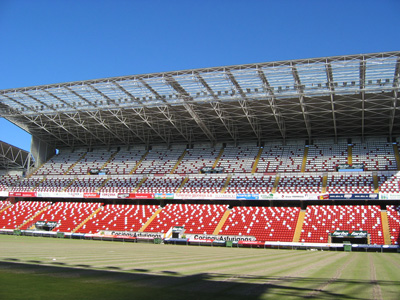 Estadio El Molinón, Sporting de Gijón with more than 12,500 seats Daplast.
The summer is a time of new signings, presentations, international tours and, ultimately, in preparation for the new season for the football teams in the League. And, though it may in general be unnoticed for the public at large, that does not usually appear in the sports headlines, are also prepared many actions and changes in the infrastructure of the soccer stadiums. Daplast, the offseason is one of the greatest moments in activity of the year. The break of the League is the best period to improve facilities, well adapting them to derived to ascend category requirements, second or first Division, either by the reforms in the infrastructure.
This factor makes July and August on two key months to manufacture, supply and install new seats through nationwide; on many occasions, facing very limited periods, due to the commitment to the Club in pre-season games.
Daplast faces this challenge year after year, meeting deadlines and expectations, thanks to the experience accumulated over more than 30 years, the work of its employees and mainly thanks to the trust our customers.
During these two months of 2010, Daplast has manufactured and installed more than 36,000 seats throughout the Spanish geography, distributed in stages of first and second division, and new sports facilities such as Sports Palace, Miribilla in Bilbao since the beginning of July until the end of AugustSports Palace, vicar in Almería and the new field of football in Puertollano, with almost 7,000 seats.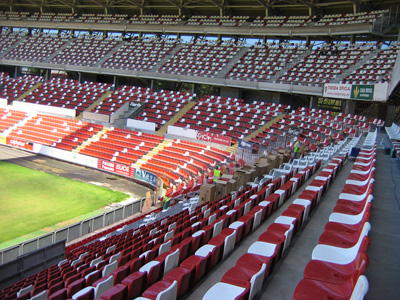 Another image of El Molinón, where a reform of the West stand was conducted in summer of 2009.
In El Molinón, Sporting de Gijón, more than 12,500 seats (continuing the reform that began with the replacement of the West stand in the summer of 2009) will be installed. And, following the rise of Hércules CF to first Division, Daplast has installed 3474 seats in the grandstand area. Also replaced the seating in the stands of the Alcorcón soccer field, and has already been completed the installation of seats in the stadium the Archangel of Córdoba CF
There forgetting facilities seats in non-sports venues, as the new Bullring Plaza, Tarragona, 2.772 folding seats, combining days of Assembly of seats with days off between different musical concerts.
Also, Cordoba signature export, only for a new stadium in Libya, more than 40,000 seats.
Related Companies or Entities