This news article was originally written in Spanish. It has been automatically translated for your convenience. Reasonable efforts have been made to provide an accurate translation, however, no automated translation is perfect nor is it intended to replace a human translator. The original article in Spanish can be viewed at
Tres trituradoras y un tractor, protagonistas del stand de Belafer de Fima 2010
Presentation of new machinery for different applications
Three crushers and a tractor, protagonists of the stand of Fima 2010 Belafer
Drafting Interempresas
25/01/2010
Belafer industries
participate in Fima 2010 to present three ranges of crushers for different applications: light forest Crusher model Marine III, the crusher multipurpose series Raw, ideal for both work in agriculture, forestry or the cleaning of parksamong other segments and fixed hammer Crusher Series Gold. In addition to these innovations, Belafer will show in the Feria de Zaragoza ATB-175 hydrostatic self-propelled tractor, designed to work in little accessible and difficult terrain, where the larger units are not operational.
Light forest shredder, Marine-III model
Crusher Belafer presented in the contest, is manufactured in measures of job, being the total width 1.75 m 1.50. Its extraordinary power of working with floating shaft of hammers of double cut, allow the exchange of hammers to one with 28 mm steel screws The tailgate allows positioning of work underway back in difficult situations and rough terrain. Its weight of 875 kg, makes it a shredder of high performance and capacity to work up to 20 cm in diameter.
The plating is in material anti-corrosion with chassis monocoque, differential with wheel free built-in tumbadores rear and hydraulic rear door. The powers of tractor, or chain wheels range from 60 to 90 CV.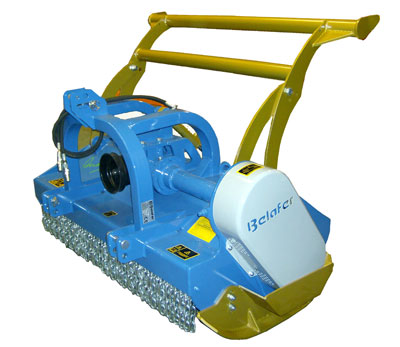 Crusher model Marine-III.

Multipurpose Crusher series Raw Belafer
It is a crusher for agriculture, at all levels, such as forestry, for specific jobs, cleaning parks, civil works, subcontracting, etc.
The range consists of two models of 1.80 to 2 meters of working and for tractors of between 75 and 120 HP. Its functional structure allows lateral displacement by means of hydraulic cylinder, availability of roller skates and roller, with rear door of elevation through 2 reinforced cylinders that allow you to simultaneously work on position of March forward-back. Ability to carry two types of axes, well the semiforestal Marine former hammers, well the 250 mm axis Specific to work in olive groves, and foliage of all kinds.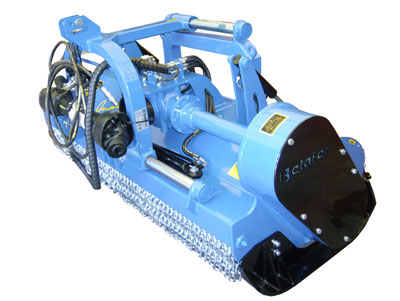 The Raw series can be used in different industrial fields.
Fixed hammer Crusher Series Gold
The series Gold, composed, a model of 1.50 meters of work, can be extended during the year 2010 at 1.80 m.
The rotor shaft is composed by 32 fixed hammers tungsten, design and concept of the brand, to work on forest resources and with capacity and power for tractors up to 150 HP of power. Its weight of 1500 kg, places it within a range of tractors and machines. The fixed hammer allow blend and work on the ground to a depth of 8 inches, burying the crushed material. The other model of Marine Gold, with a differentiated structure, is totally carenada and has a hydraulic piston engine that fits in the hydrostatic tractor ATB-175.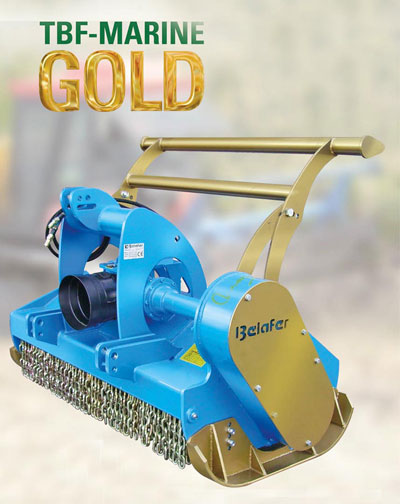 The series ' gold' is situated in a mid-range of tractors and machines.
Hydrostatic self-propelled tractor ATB-175
This tractor, which may also be seen at the stand of Fima, offers excellent performance for work on little accessible and complicated land where larger units are not operational. The transmission of the Caterpillar and the functioning of the crusher is fully hydrostatic. Transmission chains have 2 speeds on short or long marches from 0 6.3 km/h.
The crusher team it composes a new Crusher of the Gold series, in which their rotor consists of Widia fixed hammers and whose weight ranges from 1,400 to 1,450 kg. Available in sizes between 1.50 to 1.75 conception and a completely renewed, with folding arms system design hydraulic and triple system of contramartillos.
The measures of the team without the crushers are of 4,150 mm long by 1,900 mm wide and 2,500 mm high, and 5,250 mm with the crusher team. Engine power with which in principle is launches the brand is of 180 HP, to soon make 140 and 275 HP.
Applications for which it is intended the ATB-175 are the creation of forest trails, forest maintenance and preparing the ground for the adjustment, both of forest tracks and the regeneration of large areas for forest plantation.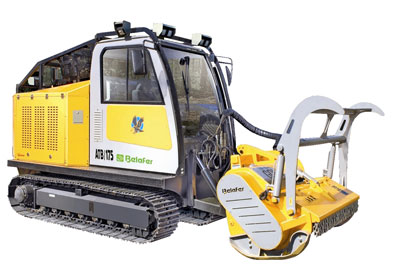 Ideal for work in little accessible land.
Related Companies or Entities