The new model has a single conveyor belt, in a closed circuit, both for download and upload
The UPC designs an innovative escalator accessible for all users
Drafting Interempresas
15/06/2009
June 15, 2009
People with reduced mobility, moving in wheelchairs or carrying bulky loads, i.e., all types of users may upload and download, without the help of anyone, with the innovative escalator designed by Jesús SánchezIndustrial student of the higher engineering technical school and aeronautics of Terrassa (
ETSEIAT
) of the Universitat Politècnica de Catalunya (UPC). The new design, result of the thesis of end of career, has been awarded by the College of industrial engineers of Catalonia and by the Universia Foundation, and it represents a saving of energy, materials of construction and installation costs.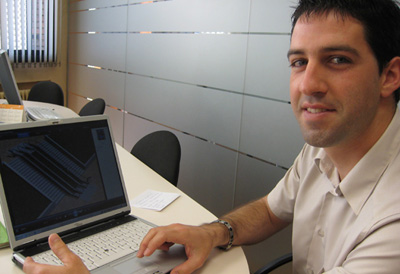 To conveniently save a drop with an escalator in a department store, in the city... Persons with reduced mobility (PRM), and which moves in a wheelchair, elderly, which are baby strollers or which move with bulky loads, conventional escalators do not solve all their problems of accessibility. For these users, the current escalators still stand more than they have to overcome with the help of other people, with great effort and waste of time. The student of the ETSEIAT Jesús Sánchez, directed by Professor David Huguet, has developed, in their final year project, a new design of escalator designed so that all types of users can use her self-sufficient way.
After pressing a button, three of the steps move vertically and become a platform flat which is accessible with wheelchair
How it works
The initial concept which has worked Sanchez is similar to the current design, but with a number of very notable innovations. Without limitation of mobility users may use the escalator without any difference from the existing stairs. However, where a user with reduced mobility who moves in a wheelchair needs to use the stairs, it may be that, after pressing a button, three of the steps to move vertically and become a flatbed that can access with your wheelchair. Once the user has placed on the platform of the ladder, with perfectly placed Chair, ladder will be functioning until you reach the end of the journey. When the user leaves the facility, the platform will be turn into three separate steps.
Sánchez has also thought about a system with remote control for persons with disabilities who, for physical limitations, can not press the button for activation of the platform. Thus, this innovative design of staircase also incorporates other systems that make it possible to use disabled Visual and auditory, using acoustic and luminous signals.
Security for the users is another important element. In this sense, the staircase incorporates a system of autonomous battery that will provide you energy where there is a cutoff of supplies and the user is at half way. In this way the user can get to the end without problems.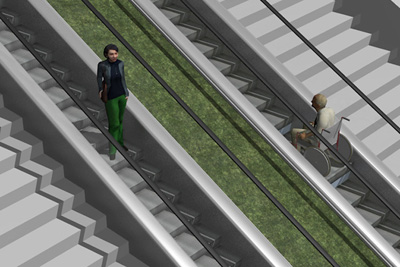 Saving energy and costs
The tape of steps that moves between the most high and the lowest, bridging the slope, is the same both for download and upload. In other words, it works following a closed circuit that resembles conveyor belts for baggage in airports but on a slope, so it takes the same tape to transport people in both directions. In the present stairs is needed a facility to upload and the other to download, because the tape of steps only provides a unique sense of displacement.
The author of the project estimated that, with respect to the current stairs, gets 30% of energy savings and a 35% cost savings
Jesús Sánchez system saving energy, material and installation costs. In this regard, the author of the project estimates that, as regards the present stairs, gets 30% of energy savings and a 35% economic saving.
"Often councils and businesses think about elevators to provide accessibility for disabled people with reduced mobility, but my system is more economical and sustainable to install an elevator." "This is a design that addresses accessibility in areas with steep slopes, in which the current solution are fixed ladders and where it is often very expensive, or impossible, to install a lift," says Jesús Sánchez.
A total of 5.6 million people with mobility difficulties
Project design of these features is not superfluous because in Spain, according to the National Institute of statistics (INE), currently 3.5 million people live with some kind of disability and 5.6 million people with difficulties for going up and down stairs. This group was could be added, as beneficiaries, people who have timely difficulties of mobility due to the purchase or the baby buggy cart.