This news article was originally written in Spanish. It has been automatically translated for your convenience. Reasonable efforts have been made to provide an accurate translation, however, no automated translation is perfect nor is it intended to replace a human translator. The original article in Spanish can be viewed at
El ganador del Concurso MF 7600 "entusiasmado" en FIMA
The winner of the Contest MF 7600 "excited" in FIMA
27 February 2012
An exclusive proof of the last range MF 7600 and a visit VIP to the innovative factory of
Massey Ferguson
expect to a lucky Spanish couple after having won a consistent prize is a trip of three days all expenses paid to Paris and Beauvais.
Ángel Cavalier cultivates 200 hectares of wheat of secano for the production of pasta in Bardalba, Saragossa to 900 metres of height. This year, Ángel is thinking the possibility to add sunflower to the rotation of crops. The couple attained the prize when filling up a questionnaire that found in http://www.masseyferguson.com/emea before the world-wide presentation of the series MF 7600 in the past month of November in Agritechnica. The users had to fill up a form and register to be the first in checking unpublished details of the new range of tractors and see a video with images detailed.
"In addition to visiting Paris with my woman, am excited by the opportunity to visit one of the factories of tractors more important of Europe. In concrete, have many win to test the so rewarded series MF 7600". The father of Cavalier Angel had a MF 188 of 75 CV manufactured in 1972, the MF 188 had an engine Perkins of 4 cylinders and was available in the versions of simple and double traction, that did it perfect for the local terrain.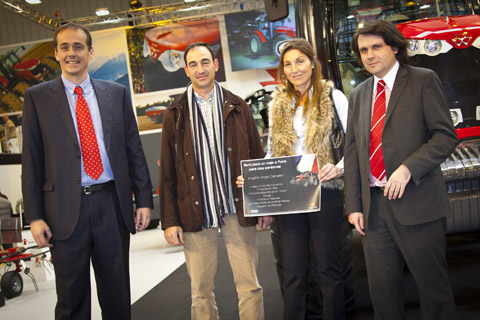 The agriculturalist Ángel Cavalier, beside his woman (in the centre), during the past FIMA.
The range MF 7600 is a series of 4 models of tractors of 185 CV to 235 CV, of big efficiency and technology advanced, widely recognised by award them received. In Agritechnica, the series MF 7600 attained the prize to the machine of the year 2012 and the medal of gold to the design, in addition to being finalist in the contest of tractor of the year 2012. The range also attained the medal of silver in FIMA by his technology of motors SCR of second generation. Instrumented with the most advanced motors AGCO Sisu Power, endowed of technology SCR of second generation, are available with transmission Dyna-6 or Dyna-VT and the customers can opt by three levels of specification: Essential, Efficient and Exclusive.
Related Companies or Entities
Massey Ferguson - (Agco Iberia, S.A.)