The company does a balance of his participation in the fair
The signature Hach Lange shows ssatisfecha with his participation in Expoquimia 2011
Editorial Interempresas
30/11/2011
In the field of the instrumentation, the signature presented several novelties:
Spectrophotometer VIS DR 3900 sc with technology RFID
The new spectrophotometer DR 3900 in addition to having of all the already usual characteristics of Hach Lange, offers the following advantages added:
Realises the transfer of information for the trazabilidad of all the process, by means of the technology RFID (Irradiate Frequency Identification –Identification by radiofrecuencia).
The updates of the methods of measure transfer of automatic way to the photometer by means of tags RFID existent in the boxes of the cubetas-test.
The tag RFID of the boxes of cubetas allow also download the certificates of specific analyses of the batch.
The photometer determines the number of batch and the caducity of the reagents from the new bar code 2D and issues the necessary warnings.
The probes in continuous of process, can adjust directly from the laboratory. The communication in real time produces by means of the connection LINK2SC between the DR 3900 and the probes of process.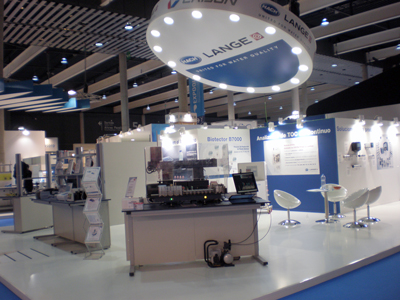 Stand Of Hach Lange in the fair Expoquimia 2011.
Biotector B7000: Analyser in continuous of TOC/TN/TP/DQO
These analysers use in a big variety of industrial applications. The technology of oxidation patented by the company (method of oxidation advanced in two steps), surpasses the limitations of the analysers in continuous traditional and offers to the customers a precise solution, reliable and of low maintenance for his analytical requests in continuous, included the measure of DQO.
These teams offer 99,7% of availability, +/- 3% of precision, have of a really effective system of autolimpieza and can analyse samples of volume a lot greater that others of the market, without previous conditioning of sample.
This provides to our customers profits such as the reliability, measurements of confidence, under maintenance and high capacity.
Robot AP 3800 Multi for automation of samples
The robot of laboratory AP 3800 multi effects the process of the analytical of the complete water, included the preparation of the samples, even when it requires a step of digestion. The basic version incorporates the cubetas-test LANGE preprogramadas of DQO, Total Phosphorus, Total Nitrogen, Ammonium, Nitrate and Nitrite. The directory of methods can expand with more parameters, as it was necessary.
The intelligent management of the time of the AP 3800 multi ensures that the sequences of sampling process of the most effective way possible. The methods intercalan automatically, but the user can establish priorities. The simple methods carry out, whereas the complex samples subject to digestion.
Related Companies or Entities