This news article was originally written in Spanish. It has been automatically translated for your convenience. Reasonable efforts have been made to provide an accurate translation, however, no automated translation is perfect nor is it intended to replace a human translator. The original article in Spanish can be viewed at
El Parlamento Europeo exige reducir el desperdicio de alimentos en la UE
The European Parliament demands to reduce the waste of foods in the EU
25 November 2011
The commission of Agriculture demands to reduce urgently the waste of foods in the EU. After being approved the past 23 November in parliamentary commission (with 38 votes in favour and one against), the report will be voted by the plenary in the session of the 12 to 15 December in Strasbourg.
Roughly 50% of the edible and healthy foods waste in the homes of the EU and in the supermarkets every year, whereas, on the other hand, 79 million citizens live underneath of the threshold of the poverty and 16 million people depend on the institutions of beneficencia to feed .
A study commissioned by the Organisation of the United Nations for the Feeding and the Agriculture (FAO) indicates that the Europeans and the North American waste between 95 and 115 quilos of foods to the year by inhabitant. Besides, the waste of foods in the world has grown 50% from the year 1974.
By this reason, the commission of Agriculture approved the past Wednesday a report in which it demands urgent measures to reduce to the half the waste of foods in the 2025 and to improve the access to the food to the most needed citizens of Europe.
The Italian Salvatore Caronna, of the party S&D, explained after the vote that "this problem has neglected during too much time, and this report sends a strong signal that the EU has to act now".
To avoid that the foods arrive to the retailers near of his date of caducity, the resolution proposes to enter information clearer indicating until when can sell and until when can consume . However, the European Commission and the States members want to ensured first that the customers do not confuse the two labels, like raisin in some occasional with the date of caducity and the one of preferential consumption.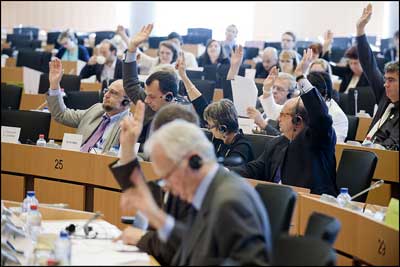 Vote of the report in parliamentary commission.