This news article was originally written in Spanish. It has been automatically translated for your convenience. Reasonable efforts have been made to provide an accurate translation, however, no automated translation is perfect nor is it intended to replace a human translator. The original article in Spanish can be viewed at
MobyDick, suministrador mundial de equipos lava-ruedas
The company has an r & d dedicated to continuous innovation
MobyDick, worldwide supplier of equipment lava-ruedas
Drafting Interempresas
01/04/2009
April 1, 2009
MobyDick
, world specialist in the field of the manufacture and installation of equipment lava-ruedas, has as objective dealing with dirt roads, highways and thoroughfares, which considers it necessary to remove the dirt of the wheels and chassis of the vehicles of work. Founded in Switzerland in 1957 under the name of Frutiger, is still a family business, but with a presence in 85 countries around the world.
MobyDick designs, manufactures, sells, installs and performs the service of its facilities, i.e., does not act as a mere Distributor. It also has a r & d dedicated to continuous innovation. The company provides its customers from simple lavaruedas equipment to installation turnkey the largest size you can imagine.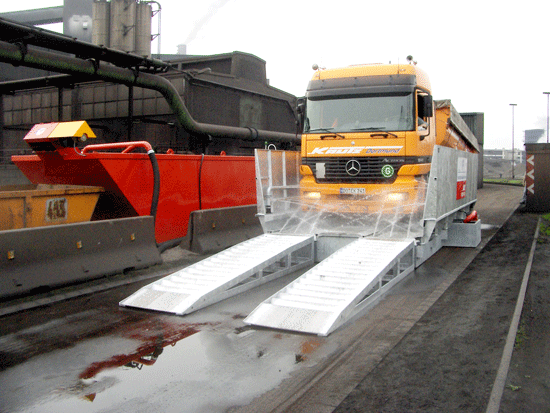 Team lava-ruedas of MobyDick.
A wide variety of products for a wide range of customers
The company works with numerous clients, from small farms of aggregates, to large landfill of inert materials (R.C.D.), industrial waste, household waste (R.S.U.), toxic and dangerous waste, stocks of materials in bulk of any kind (such as parks of coal in large thermal power stations), stocks of bulk cargo in port areas, mining facilities, industrial, cement plants, etc. In short, any installation whose vehicles soiled or contaminate roads or public pathways. MobyDick has equipped facilities for the washing of tanks of the French army and military vehicles of strings in one of the United Arab Emirates. They also facilities for washing wheels and large extra-viarios truck chassis, a guy with much success in the U.S. market.
The company is still at the stage of instruction and learning from customers in Spain, a market with great potential for growth
According to the company, this is still in the phase of instruction and learning from customers in Spain, a market with great potential for growth. The medium-term goal is to continue educating the market to be leaders in the industry, and displace a difficult competition and working strong.