This news article was originally written in Spanish. It has been automatically translated for your convenience. Reasonable efforts have been made to provide an accurate translation, however, no automated translation is perfect nor is it intended to replace a human translator. The original article in Spanish can be viewed at
Transgrúas, nuevo distribuidor de plataformas Isoli en nuestro país
You transgrúas, new distributor of Isoli platforms in our country
June 22, 2010
Transgrúas Cial, S.L.
It has come to an agreement of collaboration with the firm italiada of aerial platform truck,
Isoli
, company of recognized prestige at international level. The Italian brand is a manufacturer with more than 60 years of experience that makes a range of platforms ranging from 14 to 60 meters in height of work., telescopic, articulated configurations and Jib. In addition also produces vehicles of rescue and military. Isoli platforms are designed for a type of very diverse clients ranging from Enterprise alquiladoras (by its simplicity of use) but are also directed to the end user as local authorities, maintenance companies, painters, electrical installers... Mainly those companies who need machines of easy use, low maintenance and long life. Transgrúas has experience of more than 30 years in the market of the Spanish elevation, it has own delegations in Madrid, Levante and Vitoria in addition to an extensive network of distributors scattered throughout the national territory and has a skilled and prepared technical service which will give a quick and quality service to all customers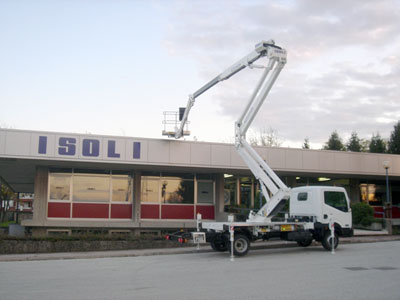 Aerial Platform Truck Isoli to distributed Transgrúas Cial S.L.
Related Companies or Entities