The plough Överum semi suspended reversible of 10 bodies, model DXL 101080 H, went one of the protagonists of the day
Howard shows all his potential in a new day of demonstration in Pontevedra
Editorial Interempresas
16/04/2012
16 April 2012
Of the 26 to 29 March, Howard Iberian organised a new series of demonstrations of aperos, in this occasion realised by the distributor Maxideza, in Lalín (Pontevedra).
Between the aperos that could check his work, found the plough Överum semi suspended reversible of 10 bodies, model DXL 101080 H, with distance between bodies of 100 cm, a clear of 80 cm and vertederas type XL for a better volteo. The disposal of the bodies in this plough articulated is in the frontal part of 6 bodies –acts like a plough suspended–, followed of a second stretch with 4 bodies.
Thanks to the special design of the flexible union, the rear part acts like a plough suspended and of this form works adapting to the outline of the terrain. The depth of work adjusts by means of the rear wheel of control.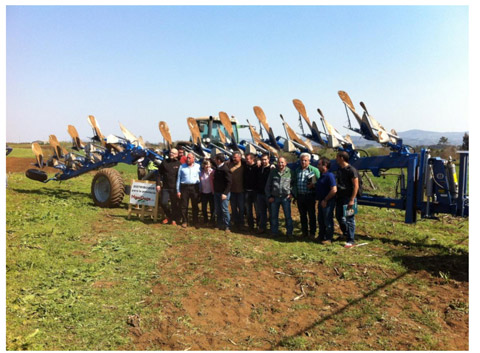 Photo of the team that allowed the realisation of the demonstration beside the plough Överum.
Another implement that it worked during the day was the preparador Howard ST600, leaving a bed of seeds structured in two layers, that ensures an operative perfect of the sembradora or of the plantadora; a better implantation of the crop; the protection against failures of the machines that work later (segadora, cosechadora, etc.); and also in plantations of lawn: more confort in the practice of sports and protection of the mowers.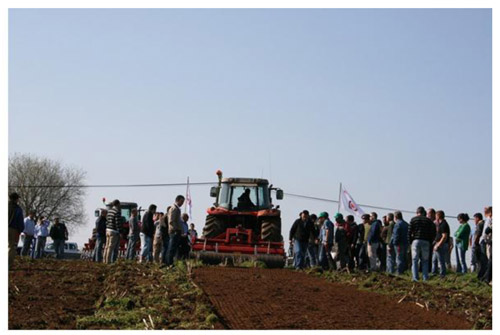 To<specto of the terrain after a pass with the preparador Howard ST600.
Finally, and no therefore less important, the assistants could check the work of the cultivador of stubble with rigid arms Kongskilde Delta Flex and the one of the terracing of compact disks Kongskilde Terra D.
The cultivador Kongskilde Delta Flex is formed by three hileras of rigid arms type C, what ensures a constant depth and system of protection non-stop or fusible screw. The special curve of the arms achieves an optimum mixed of the vegetal rests with the terrain, that facilitates the volteo complete of the floor.

Kongskilde Delta Flex (izq.) And Kongskilde Terra D (dcha.).
Regarding the terracing of compact disks Kongskilde Terra D, is formed by two hileras of disks, in two sections, for the superficial crop of the stubble and for the manufacturing of the bed of seeds. The angle of work is adjustable hidráulicamente, facilitating his adaptation to the distinct terrains and speeds of work. The Terra D is a half efficient to reduce the costs of the crop, since it allows to diminish the number of past on the field.
Related Companies or Entities