This news article was originally written in Spanish. It has been automatically translated for your convenience. Reasonable efforts have been made to provide an accurate translation, however, no automated translation is perfect nor is it intended to replace a human translator. The original article in Spanish can be viewed at
Equipos Caterpillar para el tratamiento de basuras
New compactador Cat 816F2 for Poured Rioja
Equipment Caterpillar for the treatment of rubbishes
Editorial Interempresas
02/04/2012
2 April 2012
The company Poured Rioja has purchased to Barloworld Finanzauto a new compactador of rubbishes Caterpillar, model 816F2, that develops his work from the past month of February in the dump situated in the place of Nájera.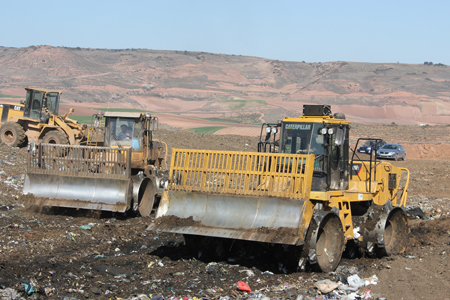 Image with the two compactadores of rubbishes and with the loaders shovel Cat with which explains Poured Rioja.
César Fernández, partner of the dump and responsible of the exploitation, signalled in this regard of the company and of the work that realises the Cat 816F2, the following: "Our company began his career in 1990, in the old dump and now carry some three years in this new dump of Nájera. As it can see, it has two glasses, the first of them that already are covering and the second that are finishing it of vaciar and prepare. We think that each glass will have a life of some 12 or 14 years and his capacity will be of roughly 2 million m3. Now we are collecting and treating the poured urban of all The Rioja, some 100.000 tonnes of annual rubbish. We have a head office of desgasificación with which obtain gas methane, the gas goes through an engine that burns it and afterwards turns into electrical power. Roughly we produce 1 Megawatio".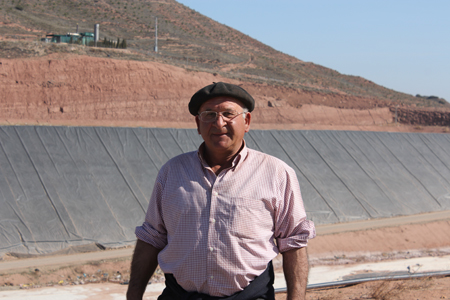 César Fernández, partner of Poured Rioja and responsible of the exploitation of this dump.
"For the treatment of the rubbish –continues saying César Fernández-, at present have of a shovel of wheels Cat 938G of the year 2000, with 9.000 hours of work, and two compactadores of rubbish Cat 816F, the first purchased also in the 2000, already with 15.000 hours, and the new that only carries a month working". César Fernández also left clear which were the reasons that did him bend by Caterpillar to the hour to take his decision of purchase: "As it has been able to see, all the machines that have are Caterpillar. Already they are a lot of years and really the mark has won our confidence. By provision, few failures, length, etc., think that are the best machines of the market. But this has not been the most important. The key is the service postventa that offers Finanzauto so much from the delegation of Logroño as from the base of Bilbao, whose personal attends us very well. It is what more value and think that the most difficult nowadays".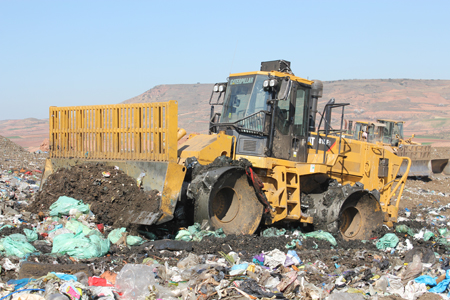 Compactador Of rubbishes Cat 816F2 in full operation.
Related Companies or Entities