Massey Ferguson Appoints to Thierry Lhotte new vice-president of Sales and Marketing EAME
8 November 2010
Thierry Lhotte has been appointed Vice President of sales and Marketing of
massey ferguson
for Europe, Africa and Middle East (EAME). In his new post, Lhotte will be based at the factory of Agco in Beauvais, France. Coming from a family of farmers, graduated in agriculture by the Instituto superior agricultural of Beauvais. He joined Massey Ferguson in 1988, hold various positions in technical support, product and Marketing for products manufactured in facilities of Beauvais, before becoming the Director of sales for Massey Ferguson to France in 1994. Between the years 2000 and 2001 he also led the team of sales for Massey Ferguson in Germany. With the growth of Agco in EAME, Mr. Lhotte became director Massey France being the leader of Agco Distribution SAS company responsible for the sales of all Agco brands in Europe's largest market.
"Massey Ferguson is one of the leading names in global agricultural machinery and us we based on these strong foundations to increase the market share of tractors and harvesters and on improving the development of our renowned post-sale service to customers", "says Lhotte.""EAME represents our largest regional market segment and I much enjoy the opportunity to help brand achieve greater success in the region."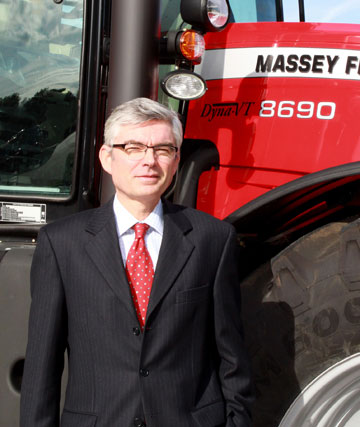 Thierry Lhotte, new Vice President of sales and Marketing EAME of Massey Fergusson.
Related Companies or Entities
Massey Ferguson - (Agco Iberia, S.A.)