This news article was originally written in Spanish. It has been automatically translated for your convenience. Reasonable efforts have been made to provide an accurate translation, however, no automated translation is perfect nor is it intended to replace a human translator. The original article in Spanish can be viewed at
Regaber presenta su nueva gama Efitech en Smagua
Regaber Presents his new range Efitech in Smagua
17 March 2014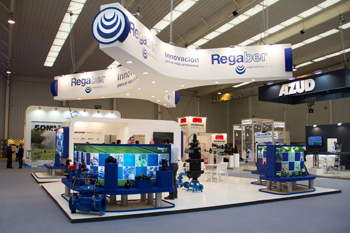 Regaber, company of the Group Mat Holding skilled in distribution of products for irrigation, has presented his last novelties during Smagua, the fair that gathers to the main professionals of the sector of the water. The company, that has received the prize to the best stand of the fair, has given to know his new range Efitech, that allows to attain important savings in water and power in the irrigation thanks to two types of products. On the one hand, the new systems of automatic control allow to the user regulate the discharge of water by means of on-line connection, allowing adjust the discharge to the demand and pressesure required avoiding unnecessary costs. Whereas, on the other hand, the new line of pipes of dripping of the company allows to work with discharges very reduced, of until 0,4 l/h. "With these products attain to modify the management of the irrigation of the communities of regantes with big savings of power and water", affirms Pablo Crnicero, director of Marketing of Regaber. Compared with the traditional systems of aspersión, the products Efitech achieve savings of until 60% in power and 25% of water in crops like the one of the corn, and 40% of saving in power and discharge in the crop of the olivo.
Regaber Has presented also his last novelties in filters, windy and valves. The new filters Sigma allow to work with a greater volume of water and are perfect for the agricultural use since they are done of plastic materials, that bear better the wear of the chemical products that the filters manufactured with traditional materials. On the other hand, the new windy Ari delete the inner air of the pipes reducing significantly the cost of power, since the air hampers the step of the water and causes that the reading of the counters was not the correct. Finally, Regaber has presented also his new hydraulics valves manufactured with plastic materials that avoid the effects of the corrosion.
Related Companies or Entities
Riegos Iberia Regaber, S.A.